ATLETICAGENEVE is a World Athletics Continental Tour / Bronze meeting.
It's not "only" the 36th best meeting in the World, with its 84577 points, is the second best Bronze meeting in the World (and better than 7 Silver and 2 Gold meetings) !
The meeting is also part (and co-founder) of the EAP circuit, where it confirms its position as the undisputed leader since 2006 (16 years!), by achieving a new record for this same circuit.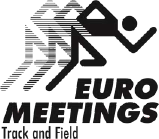 It is also quite natural that ATLETICAGENEVE is part of the EuroMeetings association and therefore present at the General Assembly, which was held in Tallin (EST) on October 22nd. This association has 48 of the best meetings in the world, in fact almost all the meetings of the Diamond League and the Gold Silver and Bronze meetings as well as some new Challengers meetings, such as the EAP meeting in Celle Ligure, proposed by ourselves (but this time as EAP President).
Thanks to the skillful chairmanship of Alfonz Juck, the assembly was perfectly conducted.
It was also an opportunity to speak on various themes proposed during the many presentations and debates, to give our opinion, ask some questions and make some proposals.
In particular our astonishment that in the Challenger category, anti-doping controls are not compulsory, on the fact that in the category of "one-day-meetings" we return more and more to meetings which take place over two days (often with street events), on the difficulty, shared by all the organizers, in ensuring the presence of the athlete who cancel a few days before the meeting, on the few difficulties and inconsistencies related to the attribution of ranking points. It was also discussed the system of "final 3" in jumps and throws, which for the moment is the prerogative of DL meetings only. We also proposed to have a look to trackmeetings.info as the European Athletics (or World Athletics) proposed platforms provides static PDF and not dynamic information.
The next general assembly will be held in Vilnius, capital of Lithuania, but a virtual meeting to prepare for the summer season is already planned for the spring.