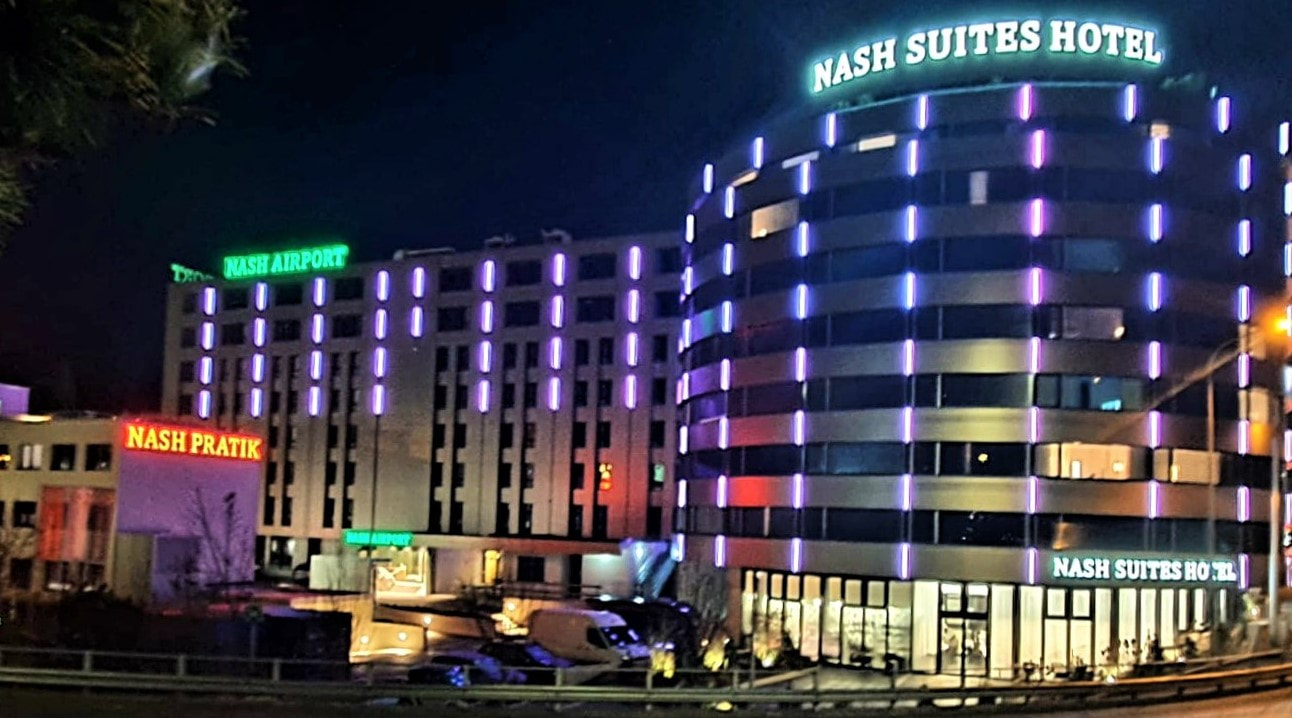 For several years, the Nash Airport Hotel **** has welcomed ATLETICAGENEVE athletes.

We can say that the growth of our event resembles that of the Nash. This four-star hotel has undergone spectacular renovations and development with the opening of two additional adjoining structures at the beginning of 2019: the Nash Suites Airport **** and the Nash Pratik ***.
This was a good thing because that same year ATLETICAGENEVE received the qualification for the World Athletics Continental Tour / Bronze which further raised the qualitative requirements both for the organization and the infrastructures and for the reception capacities.
Today the Nash Hotel is the hotel that offers one of the largest reception capacities in Geneva. The Nash Airport has 173 air-conditioned rooms and suites, the NASH Suites 130 apartments and suites and finally the Nash Pratik 41 rooms, which makes a total of 344 rooms, or nearly 600 people who can accommodate this sign.
This is what was needed because in this year 2022, ATLETICAGENEVE with its 450 athletes plus their coaches, managers and national teams plus other accompanying persons really needed a very large reception capacity. Mission accomplished, with 200 rooms for ATLETICAGENEVE (therefore approx. 400 athletes, coaches and managers) the hotel has never been so full! 
The hotel is less than 5 minutes from the airport. Barely landed athletes can already check in at reception ! Who says better ?
We have developed an integrated computer management system (ERP) allowing us to manage the entire meeting, including the hotel, and have previously obtained all the information necessary for check-in (personal data, travel data, stay data), so that the approximately 400 people arriving the day before can be pre-registered. This time saving proved to be precious and essential and the Nash was able to work with precision on our lists in real time in order to allocate all the rooms in record time and manage all the changes, inevitable in this type of event, from last days and last hours.
We worked closely with the Nash team during the days of the event and are happy to say that this intense experience has helped to strengthen our collaborative ties and optimize processes.
Today we were able to review all the aspects inherent to logistics and let them know of our great satisfaction. It is therefore with reciprocal enthusiasm that we have confirmed our desire to collaborate for the years to come.

We are already looking forward to the next rush that ATLETICAGENEVE will bring because we know that the quality of NASH will allow all athletes to give their best on the magical track of the End of the World.
Thank you Olga and Loïc and the entire NASH team who, through their competence and their involvement, far beyond what one might expect, contributes to the success, reputation and performance of the meeting!