Geneva and Annecy: the winning athletics week-end !
A great weekend of athletics is proposed this year! Geneva and Annecy (F) collaborate closely and partly complement each other in order to offer an attractive and quality weekend of athletics.
Annecy (National permit / Cat. F) is a new EAP meeting but the otherwise magnificent stadium has an enviable high competition tradition. For several years we have been thinking about this collaboration, and it is now done.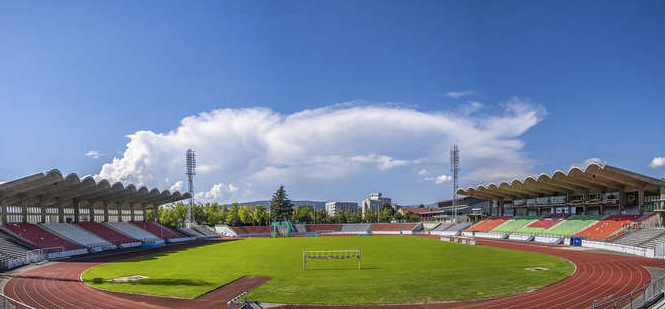 Many will remember Annecy for the organization of the U20 World Championships (1998), the Décanation (2010), the 2 European team championships (2002 and 2008), or the 3 French championships (1987, 1993 and 1994) and 1 French relay championships (1986).
It is therefore a very exciting new collaboration knowing also that the stadium records are comparable and sometimes better than those of the whole EAP! An enviable and renowned fast track!
One of the strong points of this collaboration will be the management of the national team runners in the 400m and 400m hurdles who, in Annecy, will have the opportunity to run the 4x400m relay (both Men's and Women's) !
Several teams confirmed their presence.
Discover the disciplines of the two meetings and you will see that these two meetings will attract a lot of interest and we look forward to it !
ATLETICAGENEVE
Men: 100m, 200m (invitational), 400m, 1500m, 110m Hurdles, 400m Hurdles, Long Jump (mixed), Pole Vault, Shot Put, Javelin Throw, 4x100m
Women: 100m, 200m (invitational), 400m, 100m Hurdles, 400m Hurdles, 800m, High Jump, Long Jump (mixed), Triple Jump, Hammer Throw, 4x100m
Youth local events (EAP members + local athletes):

M U18: 100m, 800m
W U18: 100m, 800m
Meeting records
MEN
EVENT
MARK
RESULTS SCORE
COMPETITOR
DOB
NAT
DATE
REMARKS
100m
9.96 (w+1.4)
1220
Arthur CISSÉ
29 DEC 1996
CIV
10 JUN 2023
PB
Athlete's profile
200m
20.19 (w+1.3)
1190
Charles DOBSON
20 OCT 1999
GBR
10 JUN 2023
Athlete's profile
200m
20.19 (w+0.6)
1190
Charleston CRAVONT
02 JAN 1998
USA
11 JUN 2022
Athlete's profile
400m
44.82
1192
Leungo SCOTCH
28 FEB 1996
BOT
10 JUN 2023
Athlete's profile
800m
1.47.30
1104
André BUCHER
19 OCT 1976
SUI
15 JUN 1996
Athlete's profile
1000m
2.22.58
998
Cheikh BOYE
10 AUG 1961
SEN
198.(?)
Athlete's profile
1500m
3:33.06
1202
Ismael DEBJANI
25 SEP 1990
BEL
12 JUN 2021
PB+NR Athlete's profile
5000m
15:06.16
793
Sami IMERI
20 NOV 1963
SRB
20 JUN 1998
Athlete's profile
110m Hurdles
13.24 (w-0.5)
1208
Garfield DARIEN
22 DEC 1987
FRA
02 JUN 2012
Athlete's profile
400m Hurdles
48.23
1220
Alessandro SIBILIO
27 APR 1999
ITA
10 JUN 2023
PB
Athlete's profile
3000m Steeplechase
8.22.05
1157
Benjamin KIPLAGAT
04 MAR 1989
UGA
11 JUN 2016
Athlete's profile
High Jump
2.31
1188
Dimitrios CHONDROKOUKIS
26 JAN 1988
CPR
28 MAY 2011
Athlete's profile
Pole Vault
5.71
1187
Charlie MYERS
12 JUN 1997
GBR
15 JUN 2019
PB + NU23R
Athlete's profile
Long Jump
8.23 (w-0.3)
1189
Emmanuel BANGUÉ
21 JUL 1971
FRA
15 JUN 1996
Athlete's profile
Triple Jump
17.42 (w+1.2)
1209
Nathan DOUGLAS
04 DEC 1982
GBR
11 JUN 2006
Athlete's profile
Javelin Throw
80.97
1115
Roberto BERTOLINI
09 OCT 1985
ITA
06 JUN 2015
Athlete's profile
Discus Throw
58.99
1042
Patrick BUCHS
07 OCT 1972
SUI
20 JUN 1998
Athlete's profile
Hammer Throw
76.07
1133
Marco LINGUA
04 JUN 1978
ITA
14 JUN 2003
Athlete's profile
Shot Put
20.51
1151
Andrei Rares TOADER
26 MAY 1997
ROU
10 JUN 2023
Athlete's profile
4x100m
38.39
1195
Christopher GARIA (1992), Churandy MARTINA (1984), Hensley PAULINA (1993), Taymir BURNET (1992)
-
NED
15 JUN 2019
WOMEN
| EVENT | MARK | RESULT SCORE | COMPETITOR | DOB | NAT | DATE | REMARKS |
| --- | --- | --- | --- | --- | --- | --- | --- |
| 100m | 10.99 | 1202 | Christine ARRON | 13 SEP 1973 | FRA | 20 JUN 1998 | Athlete's profile |
| 200m | 22.72 | 1163 | Jamile SAMUEL | 24 APR 1992 | NED | 14 JUN 2014 | Athlete's profile |
| 400m | 50.89 | 1170 | Christina BOTLOGETSWE | 01 OCT 1995 | BOT | 09 JUN 2018 | Athlete's profile |
| 800m | 1.59.69 | 1168 | Maryam Yusuf JAMAL | 16 SEP 1984 | BRN | 11 JUN 2005 | Athlete's profile |
| 1000m | 2.46.34 | 1022 | Sheila SHEBALUCK | 13 DEC 1964 | MRI | 06 AUG 1988 | NR Athlete's profile |
| 1500m | 4.15.67 | 1083 | Christina CARRUZZO | 09 JAN 1981 | SUI | 12 JUN 2004 | Athlete's profile |
| Mile | 4.22.34 | 1175 | Maryam Yusuf JAMAL | 16 SEP 1984 | BRN | 09 JUN 2007 | CR (Asia) Athlete's profile |
| 100m Hurdles | 12.69 | 1192 | Crystal MORRISON | 06 FEB 2002 | JAM | 11 JUN 2022 | Athlete's profile |
| 400m Hurdles | 54.56 | 1186 | Petra FONTANIVE | 10 OCT 1988 | SUI | 10 JUN 2017 | PB Athlete's profile |
| 3000m Steeplechase | 9.50.34 | 1118 | Anna Emilie MØLLER | 28 JUL 1997 | DEN | 11 JUN 2016 | Athlete's profile |
| High Jump | 1.93 | 1150 | Emily BORTHWICK | 02 SEP 1997 | GBR | 12 JUN 2021 | PBAthlete's profile |
| Pole Vault | 4.70 | 1177 | Lene RETZIUS | 04 JAN 1996 | NOR | 11 JUN 2022 | NR Athlete's profile |
| Long Jump | 6.95 (+1.4) | 1207 | Tara DAVIS-WOODHALL | 20 MAY 1999 | USA | 10 JUN 2023 | Athlete's profile |
| Triple Jump | 14.47 (+0.6) | 1166 | Thea LAFOND | 05 APR 1994 | DMA | 10 JUN 2023 | Athlete's profile |
| Javelin Throw | 58.19 | 1044 | Lu HUIHUI | 26 JUN 1989 | CHN | 06 JUN 2015 | Athlete's profile |
| Shot Put | 18.98 | 1144 | Krystyna DANYLCZYCK (ZABAWSKA ) | 14 JAN 1968 | POL | 198.(?) | Athlete's profile |
| Hammer Throw | 71.14 | 1112 | Aleksandra SMIECH | 02 OCT 1997 | POL | 10 JUN 2023 | NR Athlete's profile |
| Discus Throw | 60.85 | 1087 | Izabela DA SILVA | 02 AUG 1995 | BRA | 11 JUN 2022 | Athlete's profile |
| 4x100m | 42.42 | 1203 | Riccarda DIETSCHE 96 / Ajla DEL PONTE 96 / Mujinga KAMBUNDJI 92 / Salomé KORA 94 | | SUI | 12 JUN 2021 | NR |
MEETING INTERNATIONAL D'ANNECY
Men: 100m, 200m, 400m, Mile, 400m Hurdles, 2000m Steeplechase, Long Jump, Triple Jump, 4x100m, 4x400m
Women: 100m, 200m, 400m, Mile, 400m Hurdles, 2000m Steeplechase, Long Jump, Triple Jump, 4x100m, 4x400m
Youth categories (M and W)
Stadium records
MEN
| EVENT | MARK | RESULTS SCORE | COMPETITOR | DOB | NAT | CLUB | DATE | REMARKS |
| --- | --- | --- | --- | --- | --- | --- | --- | --- |
| 100m | 10.12 | 1165 | Christian MALCOLM | 03 JUN 1979 | GBR | GBR | 29 JUL 1998 | Athlete's profile |
| 200m | 20.27 (W-0.4) | 1180 | Marlon DEVONISH | 01 JUN 1976 | GBR | GBR | 23 JUN 2002 | Athlete's profile |
| 400m | 45.14 | 1170 | Daniel CAINES | 15 MAY 1979 | GBR | GBR | 23 JUN 2002 | Athlete's profile |
| 800m | 1.45.02 | 1173 | Arthémon HATUNGIMANA | 21 JAN 1974 | BDI | BDI | 24 JUL 1994 | Athlete's profile |
| 1500m | 3:36.54 | 1153 | Samir BENFARES | 06 JUN 1968 | FRA | FRA | ? | Athlete's profile |
| 3000m | 7:53.41 | 1095 | Driss MAAZOUZI | 15 OCT 1969 | FRA | FRA | 23 JUN 2002 | Athlete's profile |
| 5000m | 13:40.92 | 1095 | Mohamed CHOUMASSI | 02 DEC 1969 | MAR | MAR | ? | Athlete's profile |
| 10000m | 28:25.70 | 1095 | Mustapha ESSAÏD | 20 JAN 1970 | FRA | FRA | 24 JUL 1993 | Athlete's profile |
| 110m Hurdles | 13.11 (W+0.5) | 1233 | David OLIVER | 22 DEC 1987 | USA | USA | 11 SEP 2010 | Athlete's profile |
| 400m Hurdles | 48.41 | 1210 | Fabrizio MORI | 28 JUN 1969 | ITA | ITA | 22 JUN 2002 | Athlete's profile |
| 3000m Steeplechase | 8.22.44 | 1156 | Raymond PANNIER | 12 FEB 1961 | FRA | FRA | 08 AUG 1987 | Athlete's profile |
| High Jump | 2.32 | 1197 | Andrey SILNOV | 09 SEP 1984 | RUS | RUS | 21 JUN 2008 | Athlete's profile |
| Pole Vault | 5.93 | 1247 | Jean GALFIONE | 09 JUN 1971 | FRA | FRA | 25 JUL 1993 | Athlete's profile |
| Long Jump | 8.17 (w+0.2) | 1114 | Chris TOMLINSON | 15 SEP 1981 | GBR | GBR | 21 JUN 2008 | Athlete's profile |
| Triple Jump | 17.46 (w+0.5) | 1214 | Phillips IDOWU | 30 DEC 1978 | GBR | GBR | 22 JUN 2008 | Athlete's profile |
| Shot Put | 20.55 | 1154 | Yuriy BILONOH | 07 MAY 1993 | UKR | UKR | 22 JUN 2002 | Athlete's profile |
| Discus Throw | 68.34 | 1214 | Mario PESTANO | 08 APR 1978 | ESP | ESP | 22 JUN 2008 | Athlete's profile |
| Hammer Throw | 79.26 | 1191 | Szymon ZIÓŁKOWSKI | 01 JUL 1976 | POL | POL | 21 JUN 2008 | Athlete's profile |
| Javelin Throw | 80.97 | 1219 | Sergey MAKAROV | 19 MAR 1973 | RUS | RUS | 23 JUN 2002 | Athlete's profile |
| 4x100m | 38.48 | 1189 | Christian MALCOLM, Tyrone EDGAR, Marlon DEVONISH, Rikki FIFTON | - | GBR | GBR | 21 JUN 2008 | Team's profile |
| 4x400m | 38.48 | 1188 | Jared DEACON, Tim BENJAMIN, Jamie BAULCH, Daniel CAINES | - | GBR | GBR | 23 JUN 2002 | Team's profile |
| Decathlon | 8034 | 1131 | Sébastien LEVICQ | 25 JUN 1971 | FRA | FRA | ? | Athlete's profile |
WOMEN